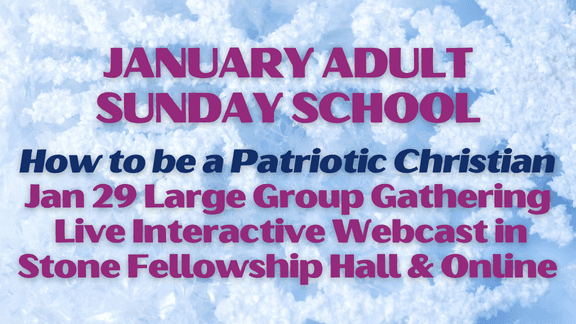 How to Be a Patriotic Christian
Large group meeting, Sunday, Jan 29 at 9:55 am
Adult Sunday School Large Group Gathering
On January 29 all adults will meet for a live interactive webcast in Stone Fellowship Hall for our large group gathering, How to Be a Patriotic Christian with Richard Mouw.
Location: Stone Fellowship Hall and Online
Teacher: Richard Mouw
Date: January 29
If you would like to join us online, please use the link below:
https://us02web.zoom.us/j/87391794908
Some Christians see loyalty to America as central to faith and identity. Other Christians are skeptical that our nation warrants such devotion or attachment. But Richard Mouw encourages Christians to have a healthy sense of national "peoplehood," one that promotes civic kinship and responsible citizenship. He seeks to navigate between Christian nationalism on one hand and cynicism about country on the other to avoid the perils of both idolatry and disengagement. In a recent book of the same title, Mouw grapples with sticky questions such as how to honor national holidays in church and the place of protests in forging a more perfect union. He places love of country in the context of Christian love of neighbor, seeing patriotism as an expression of our heavenly citizenship and a call to help our country be a place where all people can thrive in peace (copies of his book, How to Be a Patriotic Christian; Love of Country as Love of Neighbor, are available for sale at NPC on Sundays and by arrangement with Kristi Teems).
Richard Mouw is President Emeritus and Senior Professor of Faith and Public Life at Fuller Theological Seminary. He is also a senior research fellow at the Henry Institute for the Study of Religion and Politics at Calvin College.
On February 5, the spring Adult Sunday School class semester will begin.
Date
Large group meeting, Sunday, Jan 29 at 9:55 am