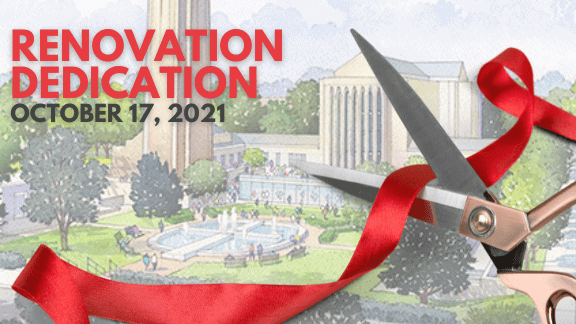 Join us on October 17th as we celebrate and dedicate our newly renovated spaces! This will be a very special time in which we remember the ways that God has blessed us throughout the journey of Building Together for the Next 50 Years!
8:45 am: Contemporary worship with renovation project dedication
9:55-10:30 am: Sunday School for all ages
10:30 am: Ribbon cutting on the upper plaza
11:00 am: Traditional worship with renovation project dedication
12:15 am: Refreshments and self-guided tours of the facility
In 2017, National Presbyterian Church embarked on our Capital Campaign. Its purpose is to address deferred maintenance in our 50 year-old building, and improve our facilities for ministry by addressing accessibility, traffic flow, unification of programs, flexible rooms, relational spaces, and more. Additionally, we pledged a full $1 million of Capital Campaign funds to our missions and Mission Partners.
Since 2017 we have come a long way! On September 6, 2020, we celebrated the kick-off of the construction with a groundbreaking ceremony. And now our construction and renovation project is nearing completion. We are well on our way to giving $1 million to support our Capital Campaign Mission Partners. We have been richly blessed with an incredible $11.3 million received thus far! We do need more funds to meet our goal. And if you have not yet given – or if you can increase your commitment, there's still time to join us in Building Together for the Next 50 Years! Please click the "Give to the Building Project" button below.