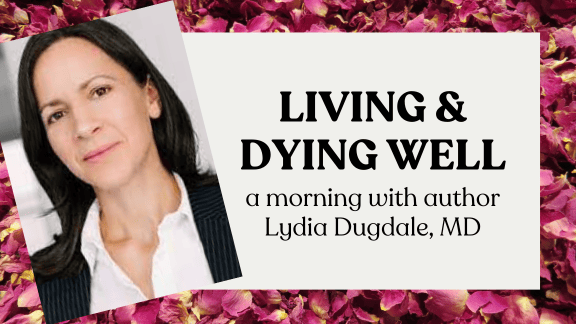 Sunday, October 15 at 9:55 am & 12:30 pm
Large-group Adult Sunday School
9:55 am: A Better Life: Christian Wisdom for Living and Dying Well, Stone Fellowship Hall
12:30 pm: Beyond Denial: Confronting the Fear of Dying, Garden Rooms
Grow and Care ministries at NPC are pleased to collaborate to offer a morning with Lydia Dugdale, M.D., Associate Professor of Medicine at Columbia University College of Physicians & Surgeons in New York City. Prior to her 2019 move to Columbia, she was Associate Director of the Program for Biomedical Ethics and founding Co-Director of the Program for Medicine, Spirituality, and Religion at Yale School of Medicine. She is an internal medicine primary care doctor and medical ethicist. She lives with her husband and two daughters in New York City.
During our Sunday School (9:55 am to 10:45 am in Stone Fellowship Hall) Dr. Dugdale, a physician and medical ethicist, will present: "A Better Life: Christian Wisdom for Living and Dying Well." The presentation will be based on her popular book, The Lost Art of Dying: Reviving Forgotten Wisdom, now available in paperback.
Following worship (12:30 in location the Garden Rooms) Dr. Dugdale will present: "Beyond Denial: Confronting the Fear of Dying." This session is intended both for those who are older, as well as for those who are caring for their elders (parents, et al.). This session will include opportunity to have a more in-depth and focused conversation than the earlier presentation and a light lunch will be served.
Date
Sunday, October 15 at 9:55 am & 12:30 pm