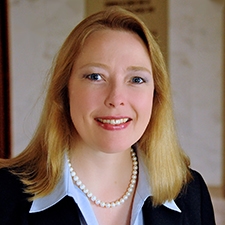 Executive Pastor
202.537.7557
dmarsh@nationalpres.org
Rev. Donna Marsh enjoys being involved in the day-to-day management of our staff and ministries, while carrying NPC's witness outward as our mission pastor. She has been on NPC's pastoral team since 2007 in a variety of roles.
Donna is a graduate of Princeton Theological Seminary and Smith College (with a junior year sojourn on Duke University's Study in China program). Prior to attending seminary, Donna worked at Andersen Consulting and the US Committee for Refugees. After seminary and before NPC, she served Darnestown Presbyterian Church.
Donna is an active board member of The Fellowship Community, and serves on the Princeton Seminary Alumni Council. She is currently serving our presbytery on the General Presbyter Search Committee.
Donna would love to meet you, and hopes you'll meet her husband Ken and their two daughters, ages 15 and 11.