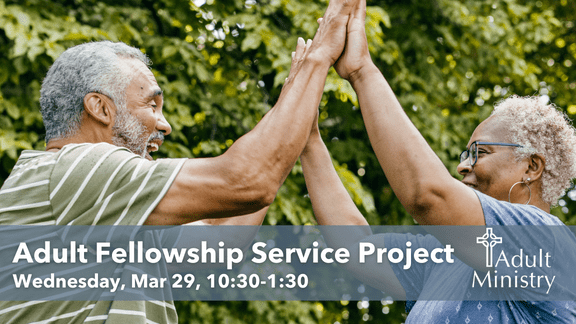 Adult Fellowship Service Project
Wednesday, Mar 29, 10:30 am
We are thrilled to extend a warm invitation to our Adult Fellowship Service Project, and we sincerely hope that you will join us!
We will be gathering on Wednesday, March 29th, 10:30 am-1:30 pm, in Stone Fellowship Hall. We will have plenty of fellowship and lunch available as we work together to prepare gift bags for congregants and guests for Easter Sunday.
We are excited to spend time with you and share in the joy of giving back to our community. Please use the blue button below to reserve your place at the work and lunch tables, as space is limited.
As we prepare for this event, we are reminded of the scripture in 1 Thessalonians 5:11 which says, Therefore encourage one another and build each other up, just as in fact you are doing. This project is a beautiful opportunity for us to build each other up and encourage one another as we work towards a common goal.
We hope to see you there!
Date
Wednesday, Mar 29, 10:30 am