Adult Sunday School and More
Summer Adult Speaker Series
Each Sunday this summer we'll hear about an important topic that helps us to think faithfully about our current situation. We will take advantage of the virtual platform to bring speakers from across the country. All summer you will be able to join us online. Using Zoom, you may interact with our presenter; using YouTube Live, you may simply watch without interaction.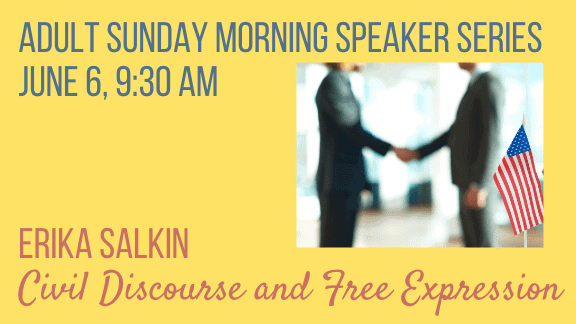 Dr. Erica Salkin, Associate Professor of Communication, Whitworth University
Civil Discourse and Free Expression
In the current moment, it's easy to believe that civil discourse and free expression are opponents, not allies. To preserve one, some have suggested it is time to restrict the other, in the hopes that regulating what can be said may lead to discussion and debate rather than discord and disunity. And yet, if we truly wish to live into a call to love one another, we must create more space, not less, to both share and receive expression. As the imperfect children of a loving God, we will not always get it right, and that can cause one to hesitate. Freedom of expression carries risk -- Supreme Court Justice Abe Fortas once called it a "hazardous freedom" -- and yet it is a risk worth taking.
Dr. Erica Salkin (BA and MA, Journalism & Mass Communication and PhD, Mass Communication, University of Wisconsin – Madison) is an associate professor of communication and Department Chair, Whitworth University in Spokane, Washington. Her research focuses on freedom of expression in academic settings, and she is the author of several articles and books on student media and student speech rights, including the recent Private Schools and Student Media: Supporting Mission, Students, and Community from Lexington Books. At Whitworth, she teaches courses in media writing, digital media, public relations and free speech as well as advises the student newspaper The Whitworthian. Whitworth University is a Presbyterian-Related Christian University affiliated with the Coalition of Christian Colleges and Universities.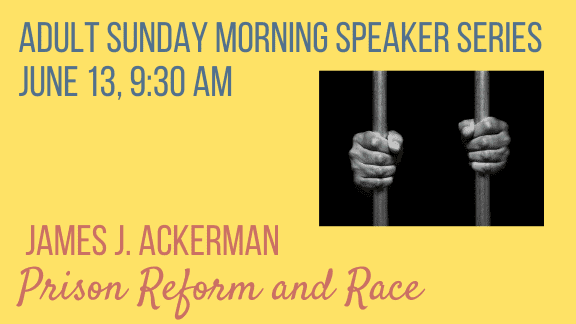 James J. Ackerman, President and CEO, Prison Fellowship
Prison Reform and Race
Prison Fellowship's experience in prisons has brought them face to face with the racism that confronts our neighbors of color, and they have witnessed firsthand the stark racial disparities in the criminal justice system. As the data attest, people of color experience greater rates of arrest, greater use of force under apprehension and while in custody, higher occurrences of prosecution, and harsher sentences. Racial bias and injustice contribute directly to these trends, as do other pervasive upstream issues like instability in housing and family structures, unequal access to quality education, and poverty.
James J. Ackerman formally joined Prison Fellowship in 2016 as President and CEO. He has more than 20 years of experience as a highly effective executive with several media companies. In 2005 he founded Spinnaker Media to develop innovative entertainment and digital media companies. He also previously held roles at British Sky Broadcasting, A&E Television Networks, Hearst Entertainment, International Family Entertainment, and Grey Entertainment & Media.
A veteran of the U.S. Coast Guard, he has served on the boards of several companies and nonprofit organizations, including Saving Innocence, which provides social services to underage girls rescued from sex trafficking, the International Documentary Association, and Stockholm-based Accedo, a global pioneer in video applications.
Prior to joining Prison Fellowship, Ackerman volunteered in prisons, including as a counselor to a man on death row in California's San Quentin State Prison and as a pre-release instructor in Tennessee's Riverbend Maximum Security Prison. He has spent the past dozen years volunteering with Prison Fellowship, leveraging his business experience to teach prisoners important life skills, such as resume writing, job interviewing, household budgeting and personal planning. He also spent 10 years mentoring prisoners and former prisoners, including a man who, though convicted of murder, went on to start a successful business of his own following his release from prison; They still maintain a close friendship today.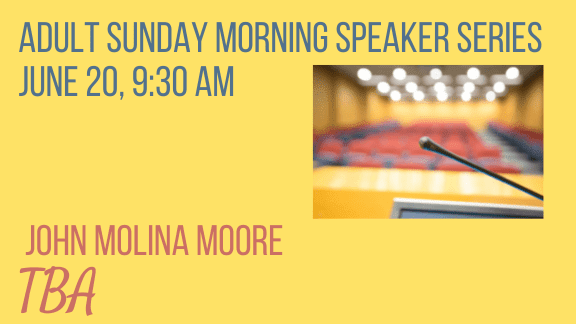 Rev. John Molina-Moore, General Presbyter, The National Capital Presbytery
Coming Back from Covid… Spiritually
As we begin the work of discerning what "church" will look and feel like in a post- pandemic world, it is an opportune occasion for a conversation about coming back to "a better normal."  Data is now showing that most active church members are not excited to return to business as usual and picking up exactly where we left off a year and half ago. Rather, Christians are looking for a different emphasis. We want to discover ways to strengthen our spiritual lives, something many of us have been too "busy" for in the recent past. Together we'll explore what a spiritual returning to church could look like through the unique lens of what it means to be Presbyterian Christians.
Rev. John Molina-Moore (BA, Sterling College; MDiv, Princeton Theological Seminary) is General Presbyter of the National Capital Presbytery, the regional organization that facilitates ministry among Presbyterian Church (USA) congregations. At Princeton Seminary he won the "The Gerald R. Johnson Award in Speech Communication in Ministry" award in preaching and communications. He also holds a Certificate in Advanced Executive Leadership for Ministers from Howard University.
Prior to accepting the call to his current position, John served pastorates at Red Clay Creek Presbyterian Church and Calvary Presbyterian Church, both located in Wilmington, Delaware. Most recently he has served Northminster Presbyterian Church, and Western Presbyterian Church in interim positions. He is an energetic, capable, inclusive and visionary leader.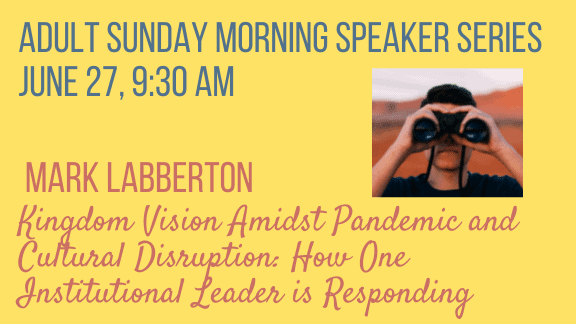 Rev. Dr. Mark Labberton, PhD., President, Fuller Theological Seminary
A Way Forward in a Polarized, 'Post-Pandemic' World

So much has changed in the past 15 months, in our personal lives, in the life of the Christian Church in the United States, in our country as a whole, and in the world. As we consider the future, Mark Labberton will offer insights he has gained as the leader of one of the world's most influential evangelical, Christian, institutions.
Rev. Dr. Mark Labberton (BA, Whitman College; MDiv, Fuller Theological Seminary; PhD, Cambridge University) was named the fifth president of Fuller Seminary in 2013, after four years as Fuller's Lloyd John Ogilvie Associate Professor of Preaching and director of the Ogilvie Institute of Preaching. Ordained in the Presbyterian Church (USA), he served in pastoral roles for 30 years prior to coming to Fuller, most recently as senior pastor of First Presbyterian Church of Berkeley, California, for 16 years. He also has served as cofounder of the Christian International Scholarship Foundation (now ScholarLeaders International), chair of John Stott Ministries, senior fellow of International Justice Mission, and in several other roles of service.
Labberton is committed to strengthening the intersection of the academy, church, and culture, and brings to his presidency a deep desire to enact justice, love, and grace on both a global and local level. A popular speaker at churches, conferences, educational institutions, and other contexts, he often uses these talks to reflect on what it means to act biblically in challenging, often divisive cultural times. On his podcast Conversing, he further explores a broad range of topics—civility, race, suffering, gender equality, storytelling, and many others—with a diversity of guests.
Books Labberton has written include Called: The Crisis and Promise of Following Jesus Today, The Dangerous Act of Loving Your Neighbor: Seeing Others Through the Eyes of Jesus, and The Dangerous Act of Worship: Living God's Call to Justice. Most recently he served as editor for the book Still Evangelical? Insiders Reconsider Political, Social, and Theological Meaning, a collection of essays on the meaning of evangelicalism in a contentious era.
Serving as president during a time of significant upheaval in theological education, Labberton has worked to help Fuller shape new, fruitful ways of carrying out its mission of "forming global leaders for kingdom vocations." Through such endeavors as the Fuller Leadership Platform, FULLER studio, innovative forms of online instruction, strengthening traditional degree programs, and a campus move, he is leading Fuller in a process that will design the path ahead for seminary education.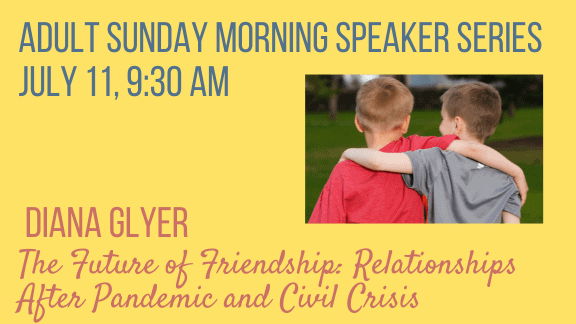 Dr. Diana Glyer, Professor of English, Azusa Pacific University
The Future of Friendship: Relationships After the Pandemic
What is the secret to C. S. Lewis's lasting accomplishments? Certainly, it includes his talent, his training, and his abiding faith. But there is another essential component, one that catalyzed all the rest: his gift for friendship. How did Lewis learn to overcome the issues that divide us and engage in daily patterns of successful collaboration? Who are the important friends who helped to bring out the very best in him? And what might we learn from his example as we emerge from social distancing and engage with one another in a post-Pandemic world?
Diana Pavlac Glyer (BS, English, Fine Arts, Bowling Green State University; MS, Education, Northern Illinois University; PhD, English, University of Illinois at Chicago) Is Professor in the College of Liberal Arts and Sciences at Azusa Pacific University in Azusa, California. She is an award-winning writer who has spent more than 40 years combing through archives and studying old manuscripts. She is a leading expert on C. S. Lewis and J. R. R. Tolkien. Her book The Company They Keep: C. S. Lewis and J. R. R. Tolkien as Writers in Community changed the way we talk about these writers.  BANDERSNATCH: C. S. Lewis, J. R. R. Tolkien, and the Creative Collaboration of the Inklings teaches us how to follow in their footsteps. Diana's scholarship, her teaching, and her work as an artist all circle back to one common theme: Creativity Thrives in Community.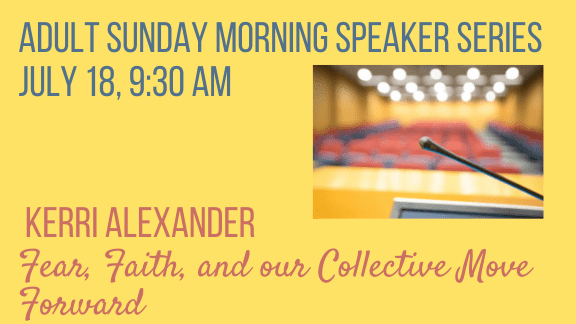 Rev. Kerri Alexander, Assistant Vice President for Student Affairs and Chief Inclusion Officer, Xavier University New Orleans
Fear, Faith, and our Collective Move Forward: Utilizing a Historical Methodological Framework for Racial Justice
Over the past several years, racial reconciliation efforts have grown rapidly across various sectors. As organizations, institutions, and communities begin to develop tangible ways to demonstrate their commitment to social justice advocacy, the detrimental effects of structural inequality continues to ripple through marginalized communities at an alarming rate. Standing in the wake of global protests against racial injustice, it is abundantly clear that we are desperately in need of transformative policy, pedagogy, and practice to change the status quo. However, we cannot move forward without reckoning with the remnants of our past. Utilizing her research on the sale and separation of enslaved families in the nineteenth century, Kerri will take us on our journey through our collective past, so we can truly envision a brighter future
Kerri Lee Alexander is a researcher, curator, and educator from Bloomfield, Connecticut. Most recently, she was appointed to serve as the Assistant Vice President of Student Affairs and Chief Inclusion Officer at Xavier University of Louisiana. She is also the Deputy Title IX Coordinator for the institution, and provides leadership for Campus Ministry, Social Justice and Inclusion, Title IX and Violence Prevention, Advocacy and Education. In addition to her role at Xavier, Kerri is currently a PhD candidate in the History Department at Howard University where her research is focused on the sale and separation of 19th century enslaved families. While in residence at Howard, she served as a Teaching Associate in the Department of History and the Graduate Mentor for the Mellon Mays Undergraduate Fellowship in partnership with The Andrew W. Mellon Foundation. Prior to her arrival at Xavier, Kerri was the Director of Discipleship and Christian Education at Kingdom Fellowship A.M.E in Washington DC. Kerri was also the 2018-2020 Education and Public History Fellow at the National Women's History Museum where she still serves as a guest curator. One of the exhibits she curated entitled "Inspired by Faith," about abolitionist and activist Sojourner Truth was featured by Google on the homepage as the "Google doodle" for Black History Month in 2019. Kerri holds a Bachelor of Science in Arts Administration/Nonprofit Management from Wagner College, and the Master of Arts in Theological Studies with certifications in Religion and Society, and Women, Theology, and Gender from Princeton Theological Seminary. Kerri is a licensed minister in the African Methodist Episcopal Church. www.linkedin.com/in/kerrileealex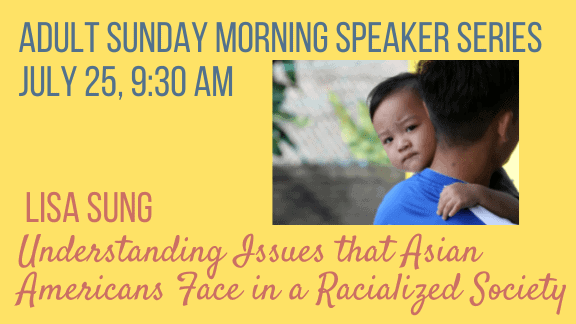 Dr. Elizabeth Sung, Scholar in Residence, Regent College, Vancouver, Canada
Understanding Issues that Asian Americans Face in a Racialized Society
In the U.S., racism is usually discussed in terms of the so-called "Black-White binary." However, this framework overlooks the situations of indigenous and other persons of color in our society. Moreover, while people of color share broadly similar experiences in relation to racial inequities, there are specific challenges with which Asians and Asian Americans/Pacific Islanders are forced to contend. The recent upsurge in anti-Asian violence is but one example.
We will identify some of the significant events, policies, cultural factors, and dynamics that continue to be in play, adversely affecting Asian Americans. The aim is to provide a more adequate and nuanced framework with a view to informing principled Christian action.
Elizabeth (Lisa) Sung (BA, Lebanon Valley College; MA, University of Michigan; MMus, University of Michigan; MDiv, Trinity Evangelical Divinity School; PhD, Trinity Evangelical Divinity School is a systematic theologian and a spiritual director. She is Visiting Professor in Theology at Regent College (Vancouver, Canada); Visiting Professor at Northeastern Seminary (Rochester, NY); Visiting Researcher at The University of Saint Mary of the Lake (Mundelein, IL); and Theologian-in-Residence at The InterVarsity Institute. In both academic and ministry contexts, she teaches theology to foster the lived reality of personal integrity and flourishing in Christ as the catalyst for missional living, in a framework that explicitly reconnects systematic theology to spiritual formation, moral transformation, and world service.
Her specializations include theological anthropology (especially personhood and identity; and race, ethnicity, and culture) and soteriology (sanctification, spiritual formation, and character development). Currently, she is writing two books: Race, Racism, and Christian Moral Identity; and the theological anthropology volume for the "Foundations of Evangelical Theology" series.
Lisa is the first Protestant scholar to hold the Chester & Mary Paluch Chair of Theology at Mundelein Seminary, commemorating the 500th anniversary of the Reformation at the largest Catholic seminary in the U.S. Previously she taught for nine years as Associate Professor of Biblical and Systematic Theology at Trinity Evangelical Divinity School, where she received the "Faculty of the Year" award, and pioneered student covenant groups singularly focused on spiritual formation. Her PhD dissertation is titled "'Race' and Ethnicity Discourse and the Christian Doctrine of Humanity: A Systematic Sociological and Theological Appraisal."
Drawing on mentoring experience in vocational ministry, and as a spiritual director, she accompanies persons in discernment, teaches at conferences, and leads group retreats. Previously, she served with InterVarsity Christian Fellowship as a theological consultant and as a campus minister with University of Chicago graduate students and the Michigan State University and Hillsdale College undergraduate chapters. She also served as the first Director of Contemporary Worship at First Presbyterian Church of River Forest, IL.
Christianity Today magazine profiled her in Ten New or Lesser Known Female Theologians Worth Knowing. The Global Church Project named her among 18 Asian Female Theologians You Should Know About.Women in the Academy and Professions featured her in an interview: A Call to Unity in Christ: An Interview with Lisa Sung.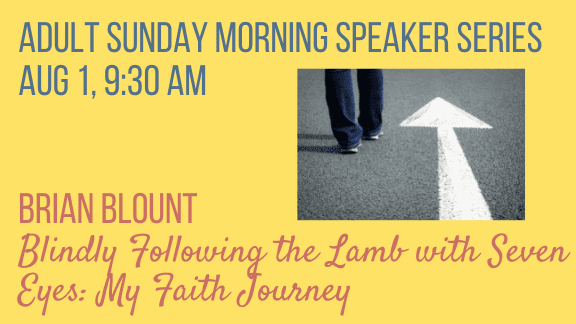 Rev. Brian Blount, PhD., President, Union Presbyterian Theological Seminary
Blindly Following the Lamb with Seven Eyes: My Faith Journey
Description forthcoming
Brian K. Blount (BA, College of William and Mary, MDiv, Princeton Theological Seminary, PhD, Emory University) is the president and professor of New Testament at Union Presbyterian Seminary, Richmond, VA, and Charlotte, NC. He was called to this position in 2007, after serving for 15 years as the Richard J. Dearborn Professor of New Testament Interpretation at Princeton Theological Seminary. After graduating from Princeton Seminary with his MDiv, Brian became the pastor of the Carver Memorial Presbyterian Church in Newport News, VA, from 1982-1988. He was William and Mary's first African-American to receive membership in the Alpha Chapter of the Phi Beta Kappa Honor Society. He received his PhD in New Testament Studies from Emory University in 1992 and returned to teach at Princeton Seminary the same year. His primary work has been in the Gospel of Mark, the Book of Revelation and in the area of cultural studies and hermeneutics. He is the author of six books, his most recent being, Invasion of the Dead: Preaching Resurrection, which is based on his 2011 Beecher Lectures at Yale University. In 2010, his commentary on The Book of Revelation was voted the 2009 top reference work by the Academy of Parish Clergy. In addition, Brian has edited or co-authored numerous other volumes, including The Discipleship Study Bible. He is an associate editor of the New Interpreter's Dictionary of the Bible and the General Editor for True To Our Native Land: An African American New Testament Commentary. He preaches and leads adult education classes in local congregations.
Brian was with us last summer, speaking on the topic, "Protestantism, The Reformed Faith, Slavery, and Race." He was also our preacher in worship that day.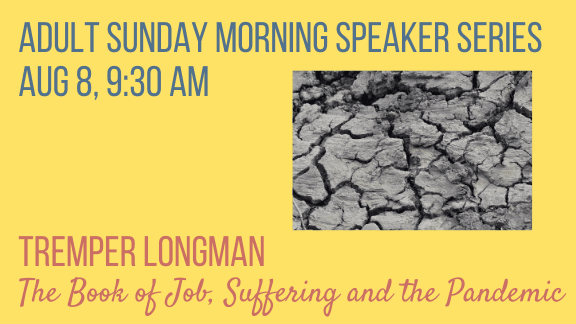 Dr. Tremper Longman Professor of Old Testament Emeritus, Westmont College
The Book of Job, Suffering and the Pandemic
In the past several months we have experienced a global pandemic, bitter partisan politics, insurrectionary violence, economic insecurity for many as well as our own personal struggles. What does the book of Job teach us about suffering and how to live in the presence of God in the midst of pain? A close look at the structure of the book of Job will reveal that while we don't get a definitive answer to why we suffer, we learn a lot about how faithful people should respond to suffering.
Tremper Longman (BA, Ohio Wesleyan; MDiv, Westminster Theological Seminary; MPhil, PhD, Yale University) is the Robert H. Gundry Professor of Biblical Studies emeritus at Westmont College, Santa Barbara, CA. Prior to joining Westmont in 1998, he at Westminster Theological Seminary in Philadelphia. He is an adjunct professor at Fuller Theological Seminary, also Visiting Professor of Old Testament at the Seattle School of Theology & Psychology as well as Ambrose University Seminary (Calgary). He has written over thirty books, including several biblical commentaries, as well as Science, Creation and the Bible: Reconciling Rival Theories of Origins with physicist Richard F. Carlson. He is an editor and contributor to the Zondervan Dictionary of Christianity and Science. With John Walton he wrote, The Lost World of the Flood.
Tremper was with us last summer, speaking on the topic of a recent book, The Bible and the Ballot. Prior to that in October 2019 he was one of the speakers for our conference with the Biologos Foundation, dealing with the question "can you trust the Bible in a scientific age?" There is a video recording of that conference, including Dr. Longman's perspective on the relationship between creation and evolution.
He has recently completed a commentary on The Book of Revelation.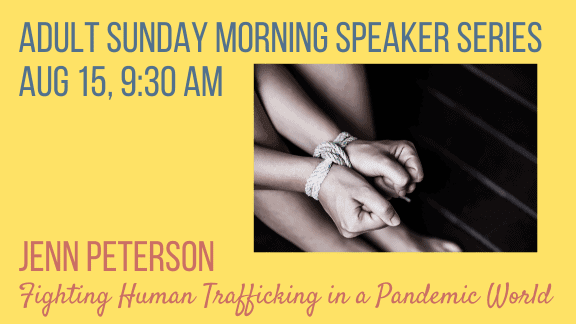 Jenn Peterson, Director of Church Mobilization for the Northeast, International Justice Mission
Fighting Human Trafficking in a Pandemic World
International Justice Mission is a global organization that protects people in poverty from violence, partnering with local authorities in 24 program offices in 14 countries to combat trafficking and slavery, violence against women and children, and police abuse of power. They are a mission partner of National Presbyterian Church, and our special area of focus and designated funding is their work in the Dominican Republic. The difficulty and urgency of their work has been compounded by the COVID-19 pandemic around the world. We will learn more about their work, especially this past year, in this session.
Jenn Petersen (BA, Music, University of Northern Iowa; MDiv, Wesley Theological Seminary) serves as Director of Church Mobilization in the Northeast for International Justice Mission, coming alongside churches as they seek to partner with God's heart for biblical justice and join Him in the renewal of all things. Jenn has over 20 years of pastoral ministry experience, serving in the areas of preaching and teaching, worship, missions, children's ministry, and church planting. Jenn has led mission teams around the world and helped to launch an immigration center at Sent Church in the Dallas area. In 2015, Jenn and her family moved from Texas to New York City to plant and pastor Resurrection Life NYC. She is married to Branden and they have two children.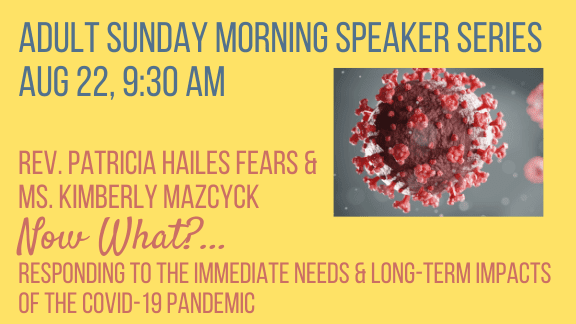 Rev. Patricia Hailes Fears and Ms. Kimberly Mazcyck
"Now What? Responding to the Immediate Needs and Long-term Impacts of the COVID-19 Pandemic"
As more people get vaccinated, many are looking forward to resuming a semblance of normal life again. However, the consequences of COVID will remain with us for some time, and for some more than others. The pandemic and the economic fallout exposed many structural issues within our society, with the health and economic toll falling especially heavy on low-income individuals and communities of color. Hear how we as Christians can effectively respond to the immediate and longer-term needs in our city brought on by COVID.
Rev. Patricia Hailes Fears (BA, English, Spelman College; MDiv, Wesley Theological Seminary) serves as Senior Pastor of Fellowship Baptist Church in Washington, DC., with a passion to serve the church and community. She has a background of community engagement, serving on numerous boards and committees, and speaking on issues of social justice. Patti is married to Ernest and they have three sons.
Kimberly Mazcyck (BS, International Relations and Affairs, Georgetown University) is the senior manager of engagement and educational outreach at Catholic Charities USA, where she develops educational resources and advocates for justice. Kim previously served as the relationship manager for national partnerships at Catholic Relief Services. She has over 20 years of experience in community outreach and domestic and international advocacy. An advocate for justice in social structures, Kim addresses issues of hunger, poverty, homelessness, racial justice, and racial reconciliation, and invites those who have been left out to know and experience the abundant love of God.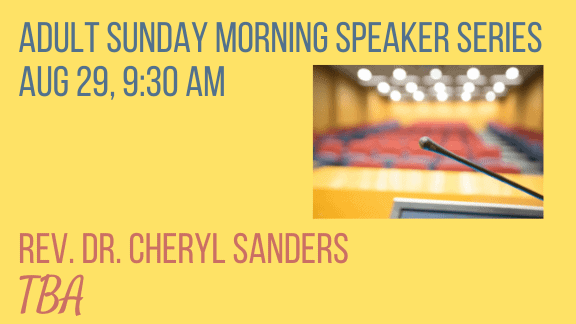 Rev. Dr. Cheryl Sanders, PhD., Professor of Christian Ethics, Howard University Divinity School; Pastor, Third Street Church of God, Washington, DC
Title Forthcoming
Description forthcoming
Rev. Dr. Cheryl Sanders (Sidwell Friends School, BA Swarthmore College, MDiv, ThD, Howard University School of Divinity) is Professor of Christian Ethics at the Howard University School of Divinity, a position she has held since 1984. Since 1997 she has also been the Pastor of the Third Street Church of God in Washington, DC.
Cheryl has ministered nationally and internationally for more than 30 years as a preacher for church services, camp meetings, conventions, conferences and revivals.
At the School of Divinity Cheryl teaches courses in Christian ethics, pastoral ethics and African American spirituality. Cheryl has held visiting professorships at Harvard Divinity School and High Point University, and taught as an exchange professor at Wesley Theological Seminary and the Lutheran Seminary at Gettysburg. She is an author of more than 100 articles and several books.
In 2002, she was awarded the Doctor of Divinity degree by Asbury College in Wilmore, Kentucky and in 2007 Anderson University also awarded her the same honorary degree.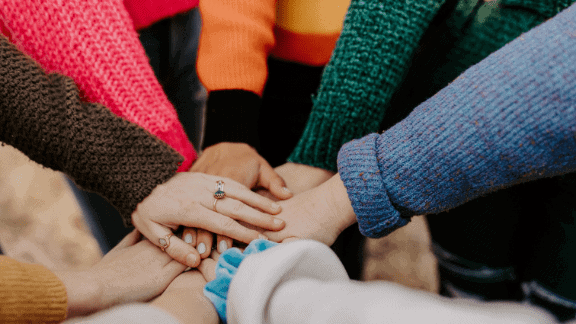 This diverse group of "sisters in Christ" studies the Bible in an interactive way, prays for each other and supports each other in times of personal needs.