BUILDING PROJECT & CAMPAIGN
Want to support our mission?
If you would like to make a regular commitment over the next 12-18 months or give stock, please contact our Business Director, Leah Skrine, at lskrine@nationalpres.org. You may also give online using the buttons below:
Explore Our Improvements!
Take a look around your renovated church! For each area, click the corresponding item on the key and read all about the improvements that were made.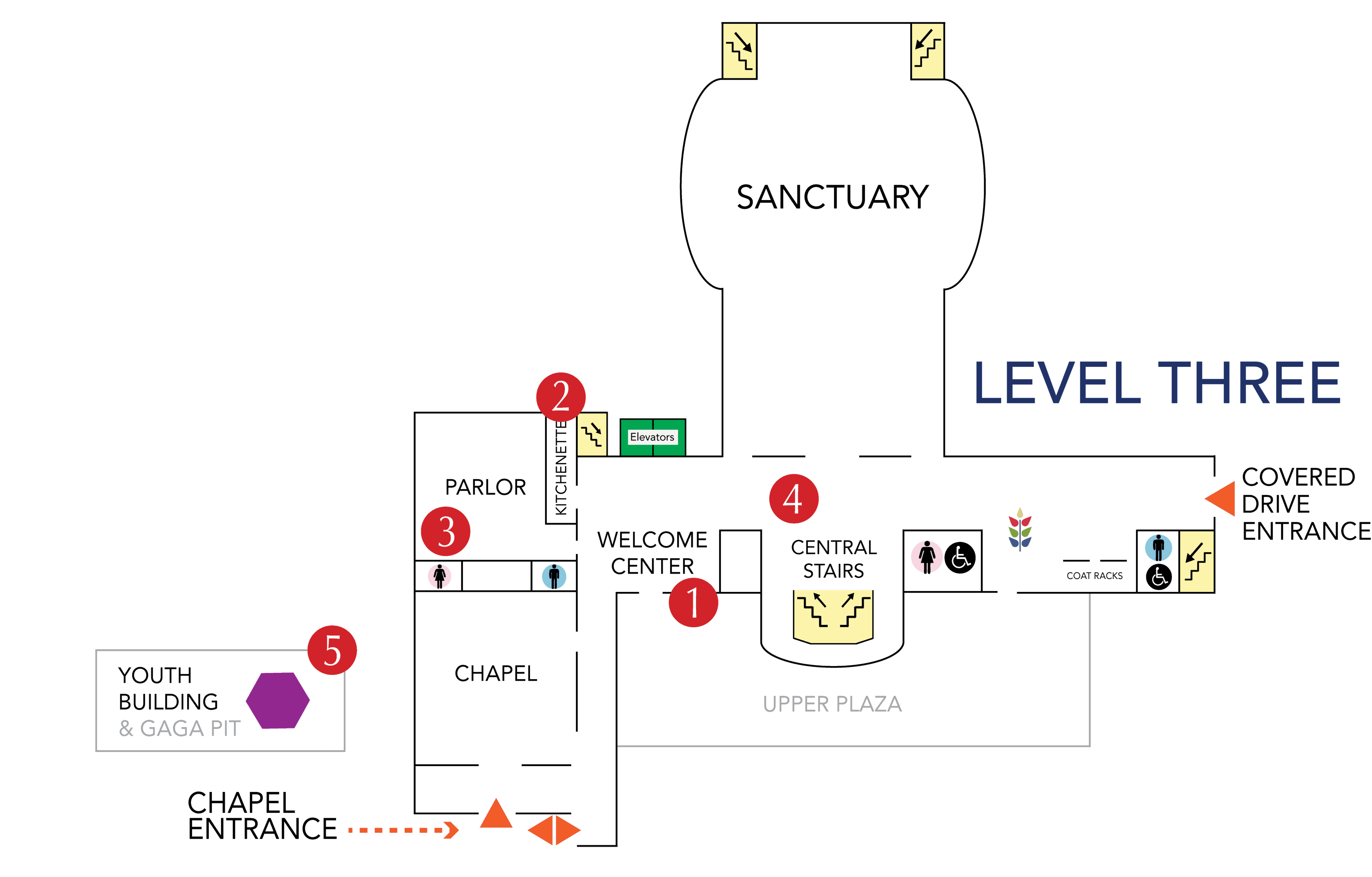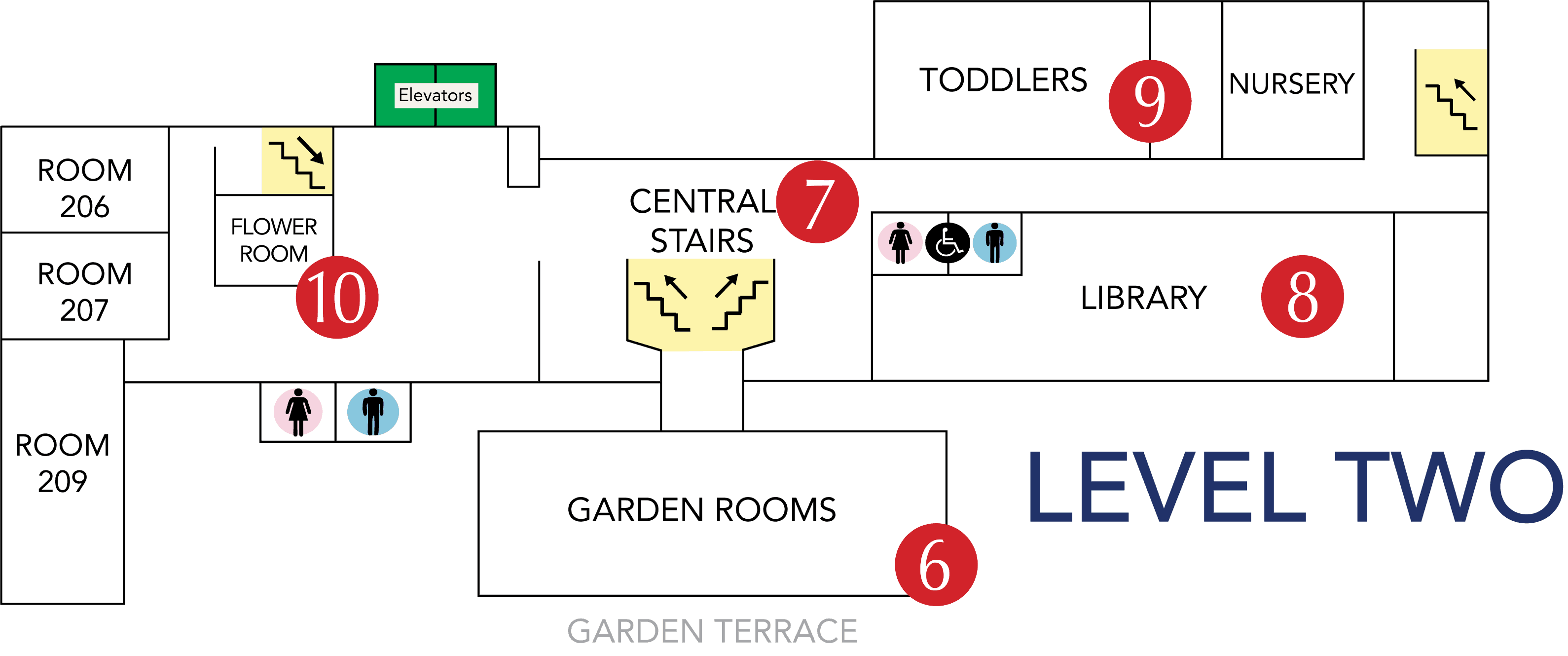 Celebrating our Renovation Dedication
...and so many "thank yous!"
On October 17, 2021, we joyfully celebrated the gift of our newly renovated facility and dedicated it to the glory of God. We are so thankful to all that made this moment possible! God has blessed us and entrusted us with a beautiful resource for his glory and we could not have come this far without the hard work and dedication of many hands. Please read all about it in our Renovation Dedication book below and join us in thanking God and thanking these talented and sacrificial people!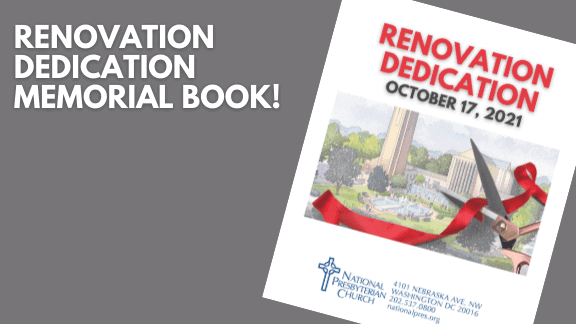 Renovation Dedication Photo Album
Keep up to date with the latest here!
In 2017, National Presbyterian Church embarked on our Capital Campaign. Its purpose is to address deferred maintenance in our 50 year-old building, and improve our facilities for ministry by addressing accessibility, traffic flow, unification of programs, flexible rooms, relational spaces, and more. Additionally, we pledged a full $1 million of Capital Campaign funds to our missions and Mission Partners.
Our Capital Campaign can be broken into two components:
Our building project - Building Together for the Next 50 Years and
Our Capital Campaign Mission Partners
Keep scrolling to read all about it! You are invited to check this page for our updates and join us in giving generously.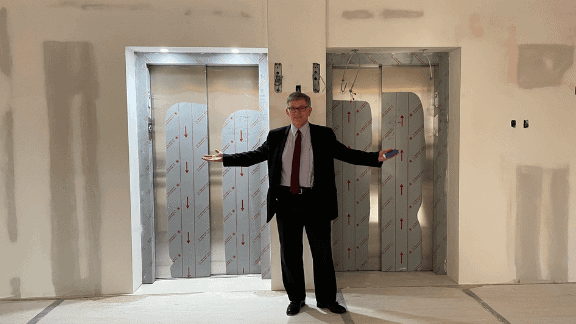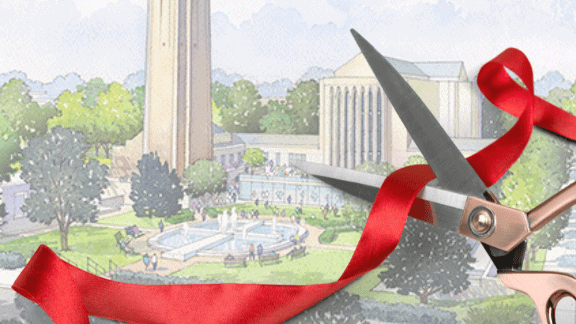 Read about monthly progress in our Construction Newsletter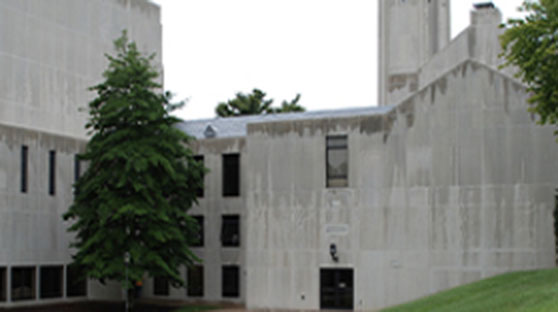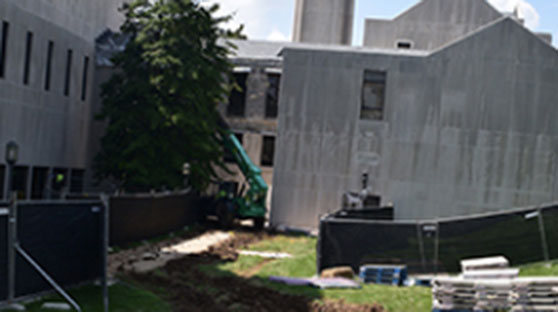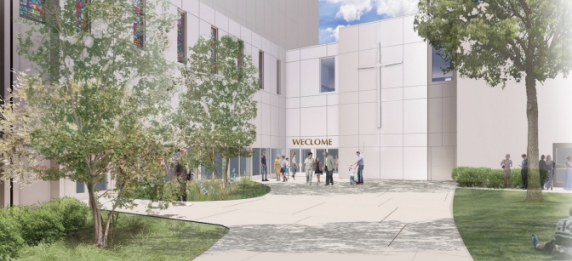 It's an exciting time as we Build Together for the Next 50 Years!
Through your contributions to the building together capital campaign, we are able to
Address deferred maintenance by renovating our facilities for ministry.
Improve our facilities for ministry with new gathering spaces, better technology, accessibility, traffic flow and campus consolidation to open spaces for future revenue.
Expand our mission with increased commitment to local and international mission efforts.
Frequently Asked Questions
We have a fantastic, dedicated team of individuals working diligently on National's behalf to bring our dream to reality.
Capital Project Steering Committee (CPSC): John Neely (Chair); Mary Jo Pera (Vice Chair), John Lawlah, Susie Westrup, Diane Stewart (our Facilities Director, and a licensed architect), David Renwick (Senior Pastor / ex officio).
Architect, Beyer Blinder Belle (BBB): BBB has vast experience in restoring, revitalizing, and reusing historic buildings and sites and served NPC as the architect during the Facilities Master Planning process. BBB's Project Manager is Jennie Gwin.  Jennie has over 10 years of experience in architecture, historic preservation and adaptive re-use. Jennie is active in her PC(USA) Presbyterian church, currently serving as an Elder, and understands our polity and process.
General Contractor (GC), MCN Build: MCN Build is a local firm that served as the GC for the successful 2015 National Presbytery School renovation project – bringing that project in under budget and on time!  We believe they understand the complexity of our campus and have great experience in DC, including a recent successful renovation of Murch Elementary, one of our neighbor DC elementary schools. 
Owners Representative, Requity Real Estate Group: Bill Krokowski has 30+ years of real estate development and executive management experience and will provide design and construction oversight.
Civil Engineering Firm, Wiles Mensch Corporation (WMC): WMC has worked with the leading architectural firms, real estate developers, and general contractors throughout DC for over 30 years.
No. Our project does not impede improvements or development on our property down the road. In fact, the present project fits into our final Facilities Master Plan for the future modification and enhancement of our church building and campus.
There are several significant components . . .  
A new entrance close to the parking lot which leads to two new elevators.
New Garden Rooms and interior rooms (including library) on Mezzanine level, and a landscaped fountain area.
New central stair to unify the building on all three levels.
Deferred maintenance (heating, cooling, organ, etc.) and IT upgrades.
The May 19, 2019 congregational meeting video offers a good overview to the major components of our capital project.  
MCN Build has been working with our Owner's Rep and the Capital Project Steering Committee (CPSC) to determine the best sequence of construction elements to minimize program impacts while maximizing construction efficiency.  We will be announcing the phases via our newsletter and other broadcast means.  We know that the plan calls for installing the two new elevators before removing the old one.  A primary goal is to ensure availability of the Sanctuary throughout the construction period.
Our major construction project is scheduled to be completed by September 2021 -- however, we'll have additional projects to finish after that.  For example, organ re-leathering must occur in an environment that is as "dust-free" as possible, which means that major construction must be completed before that project can even begin.
New gathering space in the main building is essential in order to unify as much of our Sunday operations as possible in the Main building. This will open up the rest of the campus for potential income opportunities (as per the Strategic Plan and the Facilities Master Plan) in the future, and for locating the staff offices closer together. Further, these new spaces provide rooms that are of a size and beauty that we presently do not have, making our campus more flexible, user-friendly and accessible.
Pray!  Give thanks for our donors.  Pray for new donors.  Pray for our staff.  Pray for our Capital Project volunteers.  Pray for wisdom and discernment for our architects, contractors, and consultants. And, most importantly, pray that the improvements to our facilities will be a blessing to our church family and enable us to better share the good news of Jesus Christ.
Support the Capital Campaign financially. You can be a part of our mission by giving generously here.
Thank you to everyone that has supported the project so far!
Meet our Capital Campaign Mission Partners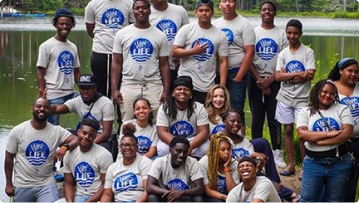 Young Life works to introduce adolescents to Christ and help them grow in their faith.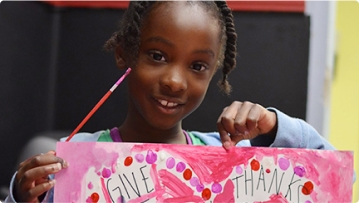 Little Lights' spaces provide a safe, engaging, Christ-focused haven from the challenges of a difficult neighborhood.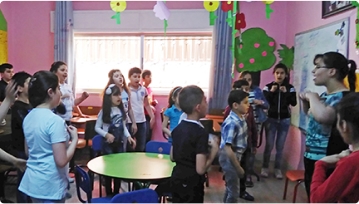 Evangelical Philadelphia Nazaraene Marka Church
The church and school witness to Christ among neighbors in desperate need of love and connection.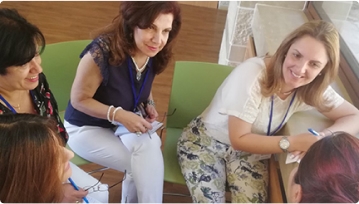 The National Evangelical Synod of Syria and Lebanon (NESSL)
The Synod of Syria and Lebanon has set up a network of Christian schools with a Syrian curriculum to serve the refugees and offer hope.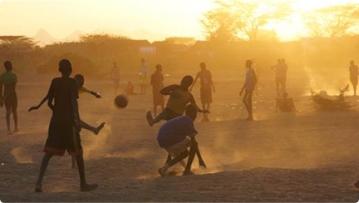 International Association for Refugees – Kakuma Refugee Camp, Kenya
International Association for Refugees is a Christian ministry that supports local church initiatives in worship, education, shelter, hygiene and evangelism.
A prayer for our capital campaign
Gracious God, our Creator and giver of all life. We praise you for the generous gifts that have been given for this Capital Campaign. Help us to be good stewards of every gift. You have blessed this congregation for 50 years and we pray that the witness will grow in the next 50 years. We ask for your continued guidance as decisions are made and contracts are signed, and the work begins. Bestow patience and wisdom on all who lead us. Open our eyes to the power of the Gospel to transform our time, talent and treasure. We desire to pass on the message of your boundless grace, love and peace throughout our church, community and world. In the name of your Son, Jesus Christ. Amen.