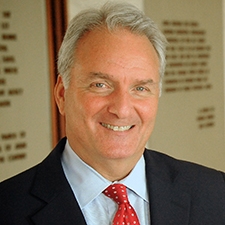 Director of Music Ministries
202.537.7553
mdenham@nationalpres.org
Dr. Michael Denham has served as NPC's Director of Music Ministries since 1997. Prior to his appointment at NPC he served on the faculties of three state universities in Texas and was ordained as a minister.
Michael is a widely acclaimed tenor, and a gifted, patient teacher. He has appeared as soloist with orchestras and in opera across the United States, and teaches classes and workshops internationally. At NPC, he shapes worship to draw deep meaning and powerful experience from Scripture.
A graduate of Wheaton College, Dr. Denham holds a Master of Music degree from the University of Illinois, a Master of Theology from Dallas Theological Seminary, and artist certificates from the Hochschule "Mozarteum" in Salzburg, Austria. He completed all coursework toward the Doctor of Musical Arts from the College of Music at the University of North Texas, and he earned the Doctor of Ministry degree from Beeson Divinity School of Samford University where he was named Distinguished Alumnus of the Year for 2019. He is the author of Reverberating Word: Powerful Worship (Wipf & Stock, 2018).
Michael is married to Laurie, a professional association senior executive. They have four adult children and four grandchildren.