Pastor Nominating Committee
In January 2022, the NPC Session approved the Ministry Information Form (MIF), which introduces our congregation to pastors who may be exploring a call to serve at NPC.  Welcome, prospective pastors!  We invite you to read NPC's MIF below.
On October 31, 2021, the members of National convened a congregational meeting and accepted the Congregational Nominating Committee's slate of nominees for the Pastor Nominating Committee (PNC).
Meet Your Pastor Nominating Committee Members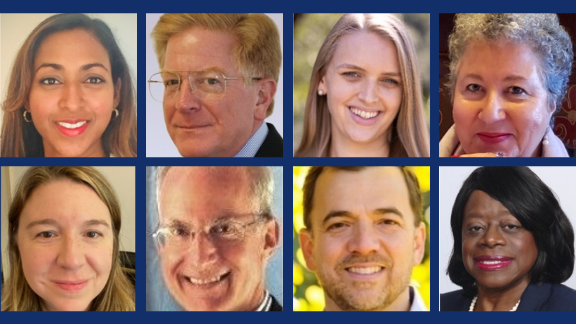 The CNC reviewed each candidate carefully and nominated them in light of the need to have a Pastor Nominating Committee that can represent the interests of the entire congregation in the selection of a new Senior Pastor. Please read the short bios to see the powerful faith and broad skills of the committee members. If you wish to contact the Pastor Nominating Committee to recommend a candidate for this position or to offer words of encouragement, please email them at pastorsearch@nationalpres.org.
Katherine Pippert, Co-Chair
Glenn Schmitt, Co-Chair
Joanna Manoranjan Chai
Rudy deLeon
Joy Eckert
Peggy Lewis
Joel Velasco
Herma Williams
Keep checking back! Whenever we have new information about PNC activities and progress, we will keep you informed here.